EAM

~ ENTERPRISE ASSET MANAGEMENT
The most effective and efficient combination of Industry leading experts, training, consulting, coaching, tools and processes for complete turn-key deployment of your maintenance & reliability program.
OUR APPROACH
Organized into the most successful deployment model and infused with lean principles, the complete Enterprise Asset Management approach creates a clear line of sight, quantifies value, and improves the system with focused solutions fused with lean methodology for rapid, sustainable step-change.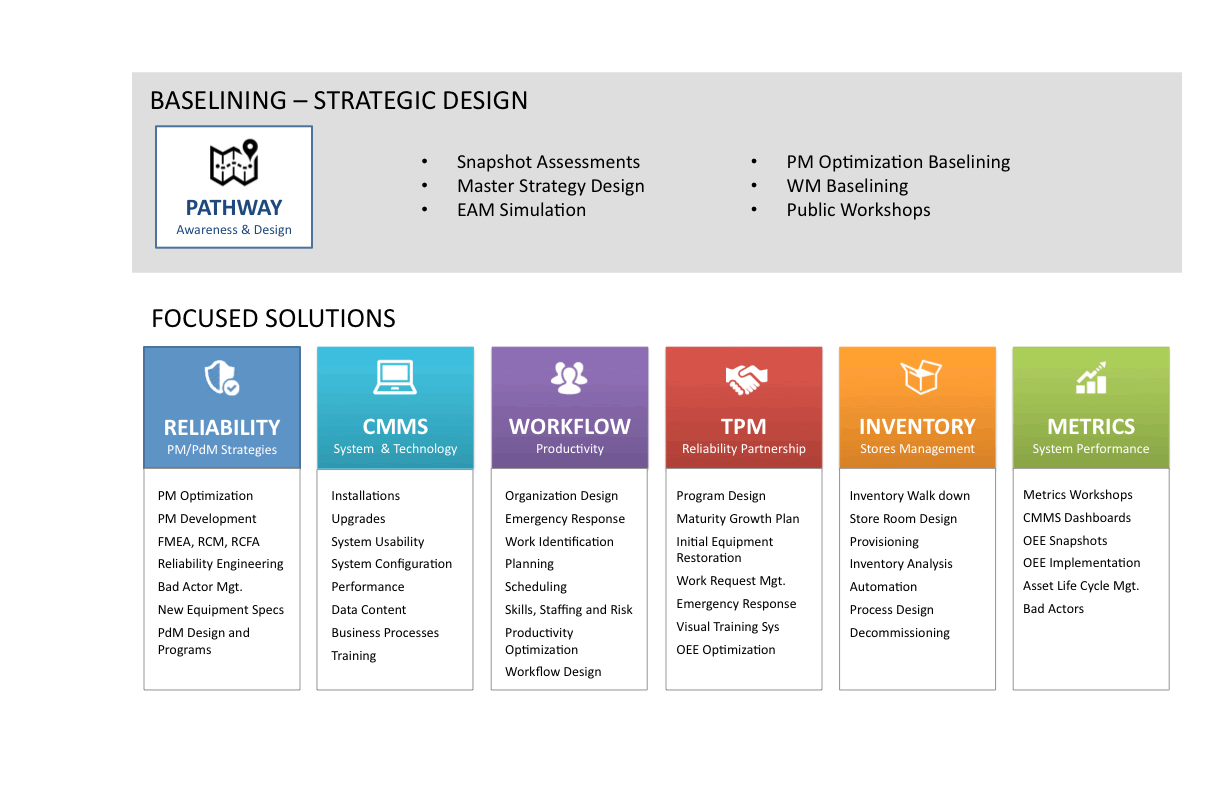 BOTTOM LINE IMPACT
Predictive Service provides proven, quantifiable results in the shortest time. No matter what drives your EAM needs, we have everything required to exceed your maintenance and reliability objectives with sustainable organizational change.
REDUCE DOWNTIME
IMPROVE PRODUCTIVITY
ENHANCED ASSET PERFORMANCE
CULTURAL TRANSFORMATION
COST REDUCTION


SERVICE / SOLUTIONS OFFERINGS
Life Sciences | Energy | Food / Beverage | Oil-Gas-Petro Chemical | Facilities | Manufacturing | Aerospace | Mining
BASELINING - STRATEGIC DESIGN
Develop your ultimate maintenance reliability program; one that will transform your entire system. Create obtainable goals identified through Baselining exercises which uncover opportunities and quantify the impact to business KPI's.
ASSET RELIABILITY
Prevent and eliminate equipment failures with a full array of program offerings including PM Development, PM Optimization, PdM design and deployment, FMEA, RCM, RCFA, Equipment Criticality, and Bill of Materials (BOM).
CMMS
The computerized maintenance management system is at the heart of all effective maintenance and reliability programs. Get the most out of your CMMS system and align it to support your organization's mission and vision. Increase accountability, track performance, ensure compliance and identify savings through a fully optimized system.
WORKFLOW OPTIMIZATION
Maximize maintenance system capability and drive craft productivity with a unique approach to tradition flow-based systems in need of optimization includes Future State workflow design, Maintenance organization structure, planning, scheduling and data management.
TPM - OPERATIONAL PARTNERSHIP
Push operational performance and optimize OEE (overall equipment effectiveness) to new levels. Maximize the effectiveness of optimum reliability partnership in TPM, OEE Optimization, Kaizen, 5S and Bad Actor Management.
STOREROOM MRO
Take total control over your MRO and storeroom. For most customers, spare parts have a profound negative impact on total MTTR while trying to balance cost. From organization, standardization, stocking strategies, ordering, receiving, usage and analysis, Predictive Service has an effective and efficient toolkit to get you there quickly.
METRICS – OPERATIONAL PERFORMANCE
Establish organizational KPI's that unite all functions of your organization and providing clear objectives in attaining reliability. Mindsets and behaviors are driven by the metrics were measured by and in many cases limit full potential.